RichT: FB page 
RichT video: "First Supper" 
Carbonia.net FB group: YouCarbonia
Riccardo Onnis used to play in the clubs and theatres of Sulcis before trying his luck on the other side of the world. In the past he sang "Psycho Killer" by Talking Heads, but watching the video of RichT's first official work, the song "First Supper", the opening words of "The Road to Nowhere" come to my mind:
Well we know where we're going, but we do not know  where we've been and we know what we're knowing, but we can not say what we've seen.
A young artist with a determined look in his eyes, in a completely different context than that where he was born and raised. Yet he seems so at ease, as if he lived in Hong Kong for a long, long time.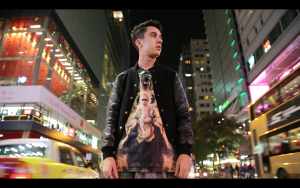 Carbonia.net: When it comes to migration, one tends to think of other places in Europe, America or Australia. Can you tell us how you arrived at your destination and what difficulties you have had to settle in?
RichT: Hi everyone, first of all I want to congratulate you on your website! I live between Hong Kong and the neighbouring city of Shenzhen. I came here because I was contacted by an entertainment company, a small record label. They saw my first video on Youtube (which I later had to cancel upon their request), then they contacted me, I packed my bags and off I went! The impact was shocking, coming from a town of about 30 thousand people to the other side of the world in a metropolis of 12 million people where no one speaks your language, use chopsticks instead of forks, with streets saturated by people, cars, skyscrapers and lights… Wow! Fortunately I did not have great difficulties in acclimatising, although the Oriental culture is completely different from ours on all fronts. I have always been fascinated by this part of the world and I was hoping one day I could get here and now I am.
Carbonia.net: In Italy little is known of Hong Kong and China in general. Not long ago, there was a Chinese wedding in Carbonia, and the news has aroused interest and introduced new points of view. How is an Italian perceived in Hong Kong?"
RichT: We are Ferrari, Maserati, Gucci and Prada, so I would say we are well perceived, in the sense that we are seen as the creators of excellence and luxury. For what I have seen they have no prejudice and are very curious about our habits, our food and every time I show them pictures of Sardinia (as I very often do), they wonder why I left. But I did not run away; I would have done even if the economic and cultural climate had been better. Let's say that I felt the desire to discover the world and fortunately I had the opportunity to do so. Anyway, now I have many Chinese friends and they are wonderful people!
Carbonia.net: Let's talk now about your music. Can you tell us about your artistic career to date?
RichT: I consider myself a creative person, who loves to create virtually everything around the music and the visual side of my work: I write my own lyrics, and I want to be always involved in the creative process, from music to video. Being very attached to Italy and Sardinia, I always tried to put people in my projects who helped me in the past, like Mitch (Michele Figus) who produces my music. Among other things he also laid down the tracks for MADH, a great friend of mine that have always supported from the start. I am very inspired by glam and pop, and like to learn and develop each day. I would never be able to get used to doing the same thing, so I think it is very difficult to pigeon- hole me.
Carbonia.net: What do you consider to be the main difficulties facing young artists wanting to emerge in Italy? Do you think that staying in Carbonia you would have had the same difficulties, or would you add any others?
RichT: I think that in Italy there are many talents and not only on the music scene. The problem is, in my opinion, that the older people are on top and do not want to invest in young people. Fortunately with Youtube you can show your stuff to the world, although the web does not give you the same reputation as traditional media like television and radio.  For me it's a double-edged sword: often one is not understood and can be an easy target for destructive criticism and prejudice. In the end, there are difficulties in Italy as in the rest of the world. The important thing is to love what you do and persevere with it.
Carbonia.net: How long is it since you have been in Carbonia? What do you miss the most of your homeland?
RichT: I've been living in Hong Kong for more than a year and not have not returned for 9 months. It's hard to explain what I miss the most of my land. Surely the air you breathe, the sky, the people, the sea, the sunsets, the food… What I miss most is my family.
Carbonia.net: We know that you are working on a new video. What is the title of the song? What is it about?
RichT: The new video was shot on the streets of Hong Kong and the single is called "I Miss U". It speaks of a loss and not understanding whether it is better to recover what has been lost or let go. My lyrics are usually cryptic, because I leave the listener with the opportunity to interpret the song in their own way: this loss could be a person, place, or any other important thing. Many times I wonder how my life would be if I had never left, see my nephew growing up, my mother smiling. These are the things I miss and "I Miss U" could also talk about this, I leave it to your interpretation.
Carbonia.net: Are you planning a tour? Do you believe there is a chance to see you performing in Carbonia at some point?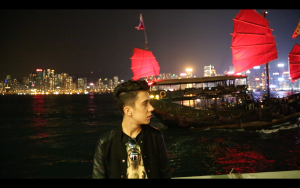 RichT: Here I have already had the chance to sing in different events and surely there will be a tour of Asia. As for Carbonia, I really hope so. The only problem is whether whether my work will be adequately promoted outside of China. Obviously if someone were to offer me such an opportunity in my city, I would be very honoured.
Thanks a lot Carbonia.net, I congratulate you again and hope to have other opportunities to hear from you soon!
RichT
(Translation by Tim Owen)
In the video below, RichT greets Carbonia.net